Wallace State softball finishes among top eight teams in the nation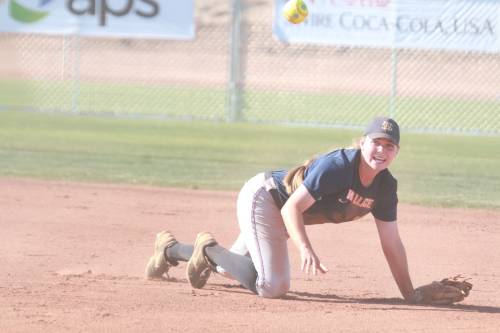 View more pictures vs. Chattanooga State on Thursday | https://www.flickr.com/photos/wallacestate/albums/72177720299289284
View more pictures vs. Lake Land College on Wednesday night | https://www.flickr.com/photos/wallacestate/albums/72177720299268982
YUMA, ARIZ. – Wallace State's softball team had its impressive season end on Thursday night, finishing among the top eight teams in the nation after a 9-7 loss to Chattanooga State in the National Junior College Athletic Association (NJCAA) Division I National Championship at the Pacific Avenue Athletic Complex in Yuma, Ariz.
Wallace State, the tournament's No. 3 seed, faced a 5-0 deficit after the first and trailed 9-2 by the bottom of the fourth. The Lions chipped away over the final three innings, fueled by a pair of home runs by Sarah Beth Brake and a two-run shot by Olivia Ball. Wallace State had the tying runs on base in the top of the seventh before Chattanooga State relief pitcher Adyson Slayback induced two groundouts to end the game.
"Give Chattanooga State 100 percent credit. They came out swinging and hit the ball where we weren't. That's part of the game. You look up and it's 5-0. We had to adjust and start clawing back," said Wallace State coach A.J. Daugherty. "I was so proud of our fight and the resolve of our team. Until the very last swing we had an opportunity to win the game, and that's all you can ask for as a coach. We had the eventual winning run at the plate."
Once again, Wallace State softball carved out one of the best seasons in program history that didn't result in a national championship. The Lions finished with a 56-4 record, spending four weeks as the top-ranked team in the nation and winning the program's 14th Alabama Community College Conference Tournament (ACCC) championship.
Wallace State's sophomore class won 111 games in two seasons, earning two conference titles and making a pair of national championship appearances.
"I'm overwhelmingly proud of the team. This is an extremely close bunch, who deserved to win. We had a sophomore class that did a great job of coming together and leading this team. This season's team had it easier because last year's set a new standard and put us back in the national conversation. This year's team did the same and will make it easier for upcoming Wallace State teams," said Daugherty, the 2022 ACCC Coach of the Year. "Our identity changed over the past two years, but we continue to set the bar higher and higher for teams down the road."
Wallace State went 2-2 at nationals. After an opening-round loss to Paris Junior College on Tuesday, Wallace State rebounded with victories over Butler CC (8-1) and Lake Land College (5-1) on Wednesday behind complete-game efforts respectively from pitchers Leigha Kirby and Josie Thompson.
Ball homered in both games on Wednesday, while Felicity Frame had five hits and three runs scored combined.
Ball cranked her third homer of the tournament on Thursday, nearly matching the four home runs she had before the event.
Among Brake's three home runs was a pinch-hit, two-run blast against Butler. She finished the season second on the team with 12 homers and was 3-for-4 on Thursday with four RBIs.
Wallace State trailed 9-4 heading into the bottom of the seventh against Chattanooga State. Brake led off the inning with her second homer of the game. Three batters later, Ball's two-run shot trimmed the deficit to 9-7. The Lions put the tying runs on base, but failed to rally further.
Thursday marked the fifth meeting between the two teams. For Chattanooga State, Ashlyn Holland, a Fort Payne native, finished with a homer and four RBIs, while Maggie Knight also homered.
For Wallace State, Bailie Hall pitched 2 2/3 innings of scoreless relief, keeping the Lions within striking distance.
Among the recognition for the team this season, Kirby was the ACCC Pitcher of the Year and ACCC Tournament MVP.
Frame was named the ACCC/Region 22 Player of the Year and Harper Niblett an ACCC 1st-team member.
Farnetti, Gracie Benton and Jessica Edde were each ACCC All-Tournament selections.
Daugherty and assistant coaches Cadi Oliver and Carson Owens were named the NFCA NJCAA Division I South Regional Coaching Staff of the Year.
Maddie Cartron became the program's all-time home run leader.
Wallace State sophomores this season were Ball, Benton, Abigail Bryars, Cartron, Jessica Edde, Farnetti, Frame, Kirby, Niblett, Thompson and Abigail Waters.
For more information about Wallace State athletics, visit www.athletics.wallacestate.edu or the athletics Facebook page at https://www.facebook.com/wsccathletics
###
Wallace State second baseman Lilyanna Cartee completes flipping the ball to first from her knees in Thursday's game vs. Chattanooga State.
Freshman pitcher Bailie Hall delivers a pitch to the plate against the Tigers.
Wallace State's Gracie Benton rounds third to score a run for the Lions.
Wallace State assistant coach Carson Owens, left, congratulates Sarah Beth Brake after her second home run of the game.
______________________________
Russell Moore
Wallace State Community College
Creative and Content Services Coordinator, Communications and Marketing
Speech Adjunct Instructor
256.352.8443 | office
256.339.2422 | mobile
russell.moore@wallacestate.edu
Click here to submit a Marketing request.
______________________________
Media Contact
Kristen Holmes

Director of Communications & Marketing, and Administrator of The Evelyn Burrow Museum (Assistant to the President for External & Cultural Affairs)

256-352-8118

kristen.holmes@wallacestate.edu
---
submit a Marketing request
Other Stories