Wallace State's students earn record gold medals at state SkillsUSA competition, win 50 medals overall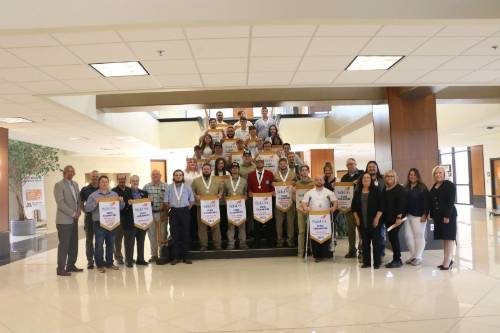 HANCEVILLE, ALA. – Wallace State Community College students set a school record recently by winning 33 gold medals at the state SkillsUSA competition.
Wallace State won 50 medals overall, leading the state in medals won and again earning the Highest Participation Award.
"SkillsUSA gives our students the opportunity to compete in a way that not everybody gets to. The fact that we won more than twice as many medals than any other college there shows the dedication of our faculty and our students to be the best they can be," said Wallace State's Dean of Applied Technologies Wes Rakestraw.
Wallace State computer science student Jessica Hollis won a gold in Mobile Robotics Technology after securing a silver medal in computer programming in 2020.
"SkillsUSA has helped me learn a lot of skills while working on a team, going in and programming, and being able to change different things about the robot that we need to do in order to accomplish goals," Hollis said.
All Information Technology-related gold medal winners at the State SkillsUSA contest were awarded a $2,000 Community College Scholarship from the Alabama Community College System to be used at any two-year college in the state.
All Wallace State gold medal winners are eligible to compete at the 2022 National Leadership and SkillsUSA event in June in Atlanta. Sara Eskew and Zach Hudson each won national gold medals in Mobile Robotic Technology last year. Seven Wallace State students have won a national gold medal since 2003.
Medals were awarded at the state SkillsUSA for the following Wallace State students:
GOLD
Drone Technology - Simret Putman, Crimson Willoughby
Nail Care - Patricia Reeves
Mechatronics - Davis Falkner, Alex Munoz
Diesel Technology - Nicholas Giangrosso
Diesel Technology (High School Level) - Nate McCutcheon
Collision Repair - Matthew Ary
Robotics and Automation - Camden Davis, Juddson Raia
Mobile Robotics Technology - Isaac Daniel, Jessica Hollis
Computer Programming - Julian Camarillo
CNC Turning Specialist - Harrison Jones
Criminal Justice - Ayla Dewald
Esthetics - Mariette Hutchinson
Barbering - Riley Henderson
Crime Scene Investigation - Jessica Rosales Aguilar, Bryson Fletcher, Amy Maddox
Information Technology - Zachary Teal
Job Skills Demonstration Open - Brylan Rice
CNC Milling Specialist - Brandon Blackwood
Automated Manufacturing Technology - Robert Combs
CNC Technician - Caleb Sharpe
Urban Search and Rescue - JaQuane Brown, Nolan West
Internetworking - Garrett Holt
Cyber Security - William Lesnansky, Alex McIntire
Automotive Refinishing Technology - Chadley Gunter
Extemporaneous Speaking - Mackenzie Walker
SILVER
Mechatronics - Luis Franco, Joshua Taite
Diesel Technology - Colby Tubbs
Computer Programming - Micah Oldacre
Criminal Justice - Caleb Andrew Coste
Esthetics - Hailey Gwin
Barbering - Wendy Gold
Internetworking - Michael Shirley
BRONZE
Diesel Technology - Kyle Chapman
Robotics and Automation - Ray Rice, Kevin Spencer
CNC Turning Specialist - Isaac Mann
Barbering - Tara Trammell
CNC Milling Specialist - Klayton Knop
For more information about Wallace State, visit www.wallacestate.edu
###
Wallace State students won 50 medals at the recent state SkillsUSA competition, including a record 33 golds.
______________________________
Russell Moore
Wallace State Community College
Creative and Content Services Coordinator, Communications and Marketing
Speech Adjunct Instructor
256.352.8443 | office
256.339.2422 | mobile
russell.moore@wallacestate.edu
Click here to submit a Marketing request.
______________________________
Media Contact
Kristen Holmes

Vice President for Students and Chief Marketing Officer

256-352-8233

kristen.holmes@wallacestate.edu
---
submit a Marketing request
Other Stories